Guest Info
TWIN LAKE VILLAGE-INFORMATION FOR GUESTS
SMOKING IS ALLOWED OUTSIDE ONLY. PLEASE NO SMOKING IN ANY BUILDING.
DINING ROOM
Meal Hours: Breakfast 8-9, Lunch 12:30-1:30, Dinner 6-7.
For those 14 and older please no shorts or jeans at dinner and a shirt with a collar and long pants for gentlemen at dinner ( jackets are optional.)
No hats or bathing suits in the dining room.
Box lunches can be ordered from the Dining Room Hostess on the preceding day.
NO SMOKING IN THE DINING ROOM.
LIQUOR IS NOT ALLOWED IN THE DINING ROOM.
MAID SERVICE
Our cleaning service runs daily between 8:00 AM – 11:00 AM. Towels are changed midweek only. Please bring your own beach towels to use at the lake. Checkout time is 10:00 AM.
GOLF
Starting times are available at the Golf Shop. Guests may call (603-526-2034) three days in advance to book three days of tee times. Upon arrival guests may book for the remainder of the week. Children under 12 must be accompanied by an adult. Please remember that our course is open to the public.
TENNIS
No signup is needed. If others are waiting to play, please give up the court after one hour or one set. Please remember to use only FLAT SOLED sneakers on the clay courts.
SHUFFLEBOARD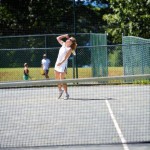 Equipment is available from the bellhop or the office.
DRONE POLICY
Drones are not allowed on the property due to guest safety and privacy concerns.
ICE
Ice is available in your cottage or from the bellhop.
BOATHOUSE
The Boathouse Boy is on duty from 9:30-12:30 and 1:30-5:30. Canoes, rowboats and kayaks are available. Sunfish sailboats and paddleboards are available for a rental fee. Swimming and boating are at your own risk; the Boathouse Boy is not a lifeguard.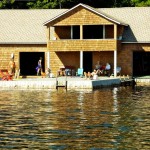 WEEKLY ACTIVITIES
Monday
9:30 AM Metropolitan Golf Tournament
8:00 PM Bingo in the Annex
Tuesday
5:30 PM Picnic at Mt. Kearsarge (weather dependent)
Wednesday
9:30 AM Mixed Doubles Tennis Tournament
8:00 PM Children's Dance in the Annex
Friday
9:30 AM Metropolitan Golf Tournament
CHECKS
Checks may be cashed at the Sugar River Savings Bank with an introduction card from the TLV Office. Cash or personal checks are accepted for bill payment. (A fee of $25 will be charged for returned checks.) NO CREDIT CARDS ARE ACCEPTED.
NEWSPAPERS
Daily & Sunday papers can be ordered by the week at the front desk and arrive around 9:30am.
INTERNET
Wireless internet is available for your laptop in the hotel lobby & sitting rooms. A password is required.
DEPOSIT REFUNDS
Deposits will be refunded if THREE MONTH'S prior notice is given or if the accommodation can be filled.
PETS
Pets are not allowed.
TIPPING
Tips are an important part of the income of those who work at TLV. TIPS ARE NOT INCLUDED IN THE RATES OR ON YOUR BILL. If you are staying longer than a week, weekly tipping is appreciated. The suggested tipping schedule: a total of 15% of your room & meals bill distributed as follows: 11%-Dining, 4%-Maid. Bellhops and the Boathouse Boy should be tipped SEPARATELY if used.