Signs of fall are everywhere, from bursts of red and orange as the leaves start to turn to the flag pole taken down and the rocking chairs removed from the front porch and stored for the winter. The hotel has been put to bed and our winter tenants have had their opening weekend. Summer 2015 is officially over and we want to thank you for a successful year!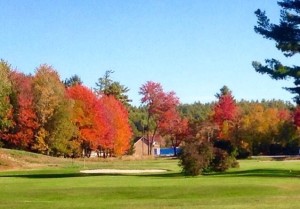 One of the most exciting aspects of the summer was the TLV baby boom! Each week we were introduced to a number of babies! It is wonderful to see the next generation of TLVer's and know that so many family traditions will continue. The future certainly looks bright for TLV!
Last week we threw a retirement party for George and Gail. George has worked for TLV for 25 years starting as recreation director and working part time in the shop for Carl and Sue Luthman. For the past 18 years, George and Gail have managed the shop and we could not have asked for a better couple to fill the Luthmans' shoes!
Work has begun on one of our fall projects which is to level the lawn beside the Annex where the tent is erected for weddings and other functions. This will give us more options for tent design and layout not to mention eliminating worries of shimming tables so things don't slide off them!
Though we are enjoying this beautiful September and the slower pace fall brings, plans for 2016 are well under way! With the cottages tentatively booked for most of the summer and three weddings scheduled for our shoulder weekends, we will be busy! There is availability at the beginning of the summer and we would be happy to talk to you or your friends about a family reunion or an early summer vacation.
To stay current on Villa happenings, follow us on Facebook and Instagram. Enjoy the fall and again thank you for being a part of our TLV family! We look forward to seeing you next summer!