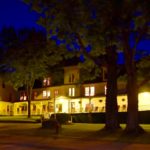 It is hard to believe it is the end of July and we are half way through the season! Summer is flying!  TLV has been booming, starting with Alex and Chloe's wedding in June and all through July.  August looks to be just as busy so we are very excited!
The weather has been perfect for vacationing. After a round of golf or a set of tennis, the lake is the place to be!  So far we have managed to hold our picnics on Mt Kearsarge every Tuesday evening and each Tuesday has been better than the one before!
Last Saturday evening we had a storm roll through the area with high winds, knocking out power just before dinner. We had our
second, hopefully not annual, candle light dinner. Fortunately, the power was restored by the end of dinner!
We are enjoying seeing all of our friends. It is fun to catch up with the families that have not been to TLV for several years as well as reunite with those we haven't seen for 51 weeks.  Scottie has been busy setting up cribs in
the cottages this summer as TLV is in the midst o a baby boom!  It is awesome to see the next generation being introduced to the Villa!
Looking forward to seeing all of our August friends! We miss those of you who could not join us this year and hope to see you next summer!