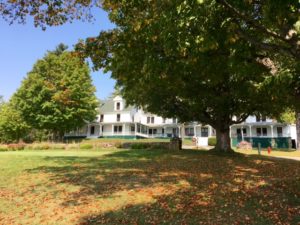 And just like that the hotel has been put to bed, the rocking chairs are tucked away until next June, our winter tenants have moved in and the 2017 season is officially over!!! What a year it has been and we can't thank you enough!! A few highlights from our 120th season:
• The wave at the week 2 dance
• The downpour at the week 7 picnic followed by a spectacular sunset
• Donuts with strawberry rhubarb coulis
• Labor Day weekend wedding attire that included rubber boots
• Potato car races
• Several engagements and we are so excited that one is going to be a TLV wedding!!!
• Conversations with old friends racking on a porch
• Rainbows
• Flotillas of floaties
• Babies!!! We have a new generation of TLVers!!!!!
Those are a few of my favorite memories and I'm sure you can add more! Whether you were here for the first time, fifth time or fiftieth year we appreciate your friendship and patronage and look forward to seeing you again in 2018!
We can't end the season without saying thank you to our staff! What a great group of employees from Naomi, Maureen and the dining room team to Dave in the Golf Shop to Laurie and her incredible housekeeping team and everyone in between…you are awesome and we would be lost without you! Thank you!!!