Happy 2016! We hope you had a wonderful holiday and enjoyed a happy and safe New Years! We had the majority of our families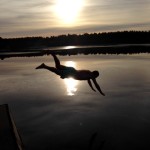 around for Christmas and fun was had by all. Without any snow and daytime temperatures in the 60's, sledding and skiing had to be placed with other activities. Scott Campbell and Kyle Goodwin plunged in the lake Christmas Eve afternoon while Ken and Tanner dove in Christmas morning to start their day.  Kayakers, paddle boarders and even a waterskiing Santa could be found on area lakes! Crazy! Fortunately, winter seems to have arrived with some snow and cold!
The guys have been busy with some kitchen projects in Halfway and Maples and they replaced the Woodbine porch ceiling. A bigger renovation is planned for Hillcrest later this winter. Now that we have some snow, they will head into to the woods to cut firewood and lumber to be milled for various projects.
Jeffie and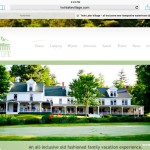 I will be doing updates to our website in the coming month. One change we have already made is adding a news page. We hope you check in frequently to catch up on the goings on at TLV.
Reservation request for deposit letters have been mailed. Please contact us if you don't receive yours in the next week.
We are looking forward to a busy summer with our official opening on June 25th. We are excited to be hosting three weddings this summer with a special weekend being planned for Sophie Friedman and her fiancé. Sophie has been coming to TLV since she was a baby, got engaged on the first tee last summer and we are thrilled she chose to be married here! We also can't wait to see all of you, meet new family members and welcome new friends.