The winter cold has settled in, but we are still waiting for our first major snow storm of the year! The fun part of a cold dry winter is a frozen Lit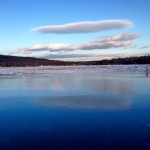 tle Lake Sunapee and the activities that it brings – skating, ice fishing, pond hockey and ice boating to name a few.  It is so much fun to investigate a frozen lake and explore places usually visited by kayak or paddle board.  Often you can be skating along the shoreline and see fish swimming below you.
The limited snow has not lent itself to sledding this winter. The few inches of snow that fell over the weekend did give our winter guests (who rent our cottages for the off season) a chance to sled down the golf course hill.  As you can imagine, it is loads of fun and the hooting, hollering a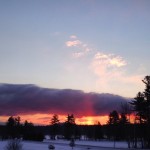 nd laughter can be heard around the property!
The sunrises and sunsets have been pretty spectacular lately! My guess is that it is the angle of the sun, but whatever the reason it is a beautiful way to start and end the day! Hope this finds all of you well and enjoying the wonders of winter!